There are many factors that go into an agent's ability to negotiate: their seller, the bank, their buyer, another agent's buyer or seller, and so on. However, in the spirit of our Agent's Choice Awards issue, we thought we would pick out the sell-side and buy-side agents with the best "batting average" against list price. In this data, we looked only at agents – with REO/short sale agencies on the sell-side – who have done at least 20 transactions on either the buy-side or the sell-side.
The sell-side winners for maintaining – and even increasing – the list price most likely did most of their homework, prepping their seller for a reasonable price well before the stretch of the after-offer bidding. The winners for the buy-side were able to find the softness behind the sticker price and land the deal for their buyers.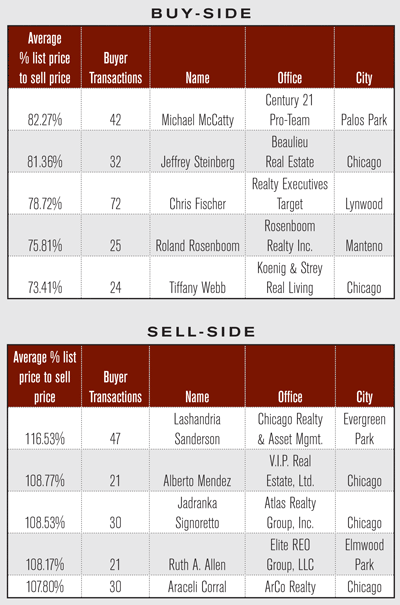 Leap Real Estate Systems is the leading provider of online solutions for Chicagoland's progressive agents. With over 20 years of software development experience and a keen understanding of the real estate industry through analytics, our mission is to create innovative products that improve seller communication and encourage data-driven decision making. For more information on our company and services, visit www.LeapRE.com.