All across the nation, people are affected by foreclosures. Now, with foreclosures declining, the number of bank-owned houses is, too.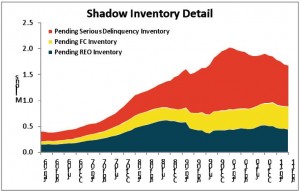 The shadow inventory, also known as pending supply, refers to houses that have been foreclosed, and are now bank-owned. The properties are not currently listed for sale. The shadow inventory depresses home market value and delays the much needed market rebound.
According to CoreLogic, the supply of shadow has dropped to 1.7 million residential units in April. This is down 10.5 percent from this time last year and represents a five-month supply. The nation's shadow inventory peaked at an 8.5 month supply of 2 million houses in January 2010. The shadow inventory accounts for 29 percent of all available housing.
The decline has been attributed to fewer delinquencies and the high level of distressed sales, which helped reduce the number of outstanding distressed loans, the Santa Ana, Calif.-based data company said in a HousingWire article.
"The shadow inventory has declined by nearly one-fifth since it peaked in early 2010, in large part due to a reduced flow of newly delinquent loans in recent months," said Mark Fleming, chief economist for CoreLogic, in a statement. "However, it will probably take several years for the shadow inventory to be absorbed given the long timelines in processing and completing foreclosures."
Corelogic calculated the number of distressed properties not listed on multiple listing services that are at least 90 days delinquent, in foreclosure or in real estate-owned state to estimate the current shadow inventory. Those properties that are not delinquient but may become delinquent were not included in the calculations.
Of the 1.7 million residential units that make up the shadow inventory, there are 790,000 that are seriously delinquent and another 440,000 that are in the state of foreclosure.
In addition to the current shadow inventory, there are 2 million home loans with negative equity of more than 50 percent or $150,000.
"These current but underwater loans have increased risk of entering the shadow inventory if the owners' ability to pay is impaired while significantly underwater," CoreLogic said in the HousingWire article.