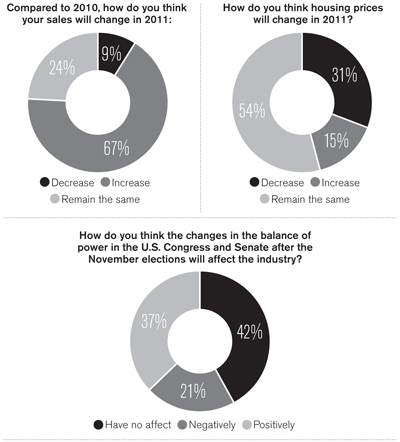 Additional Comments:
"Due to a significant amount of foreclosures and short sales on the market, and also because of consumer perception, buyers expect to get good deals and they negotiate aggressively. The homes that close are the ones where the seller is willing/able to accept a buyer's view on market value. Buyers consider market value to be less than the last comp that sold – even if it sold last week. I don't foresee a shift in that point-of-view happening soon." KELLY MILLER, COLDWELL BANKER HONIG-BELL, SYCAMORE
"With the elections behind us, hopefully the banks will loosen up on credit and move forward on short sales/foreclosures in a more timely fashion. Everybody's been saying this hasn't happened given the political uncertainty- well, hopefully that's behind us now." ANONYMOUS
"If prices stay the same or decrease we are going to have a big problem."
MIRA KOVACEVIC, SUDLER SOTHEBY'S INTERNATIONAL REALTY, LINCOLN PARK
"Changes in housing prices will depend on the area and then the subdivision. Libertyville is starting to see a slight increase from 2009, however the Round Lake areas are still in the decline." VERA PERGL-BUTKOVICH, COLDWELL BANKER, LIBERTYVILLE
"We still may have a way to go before the bottom of the price valley has been reached. Prices will be flat if not dropping again this year." ANONYMOUS
"With the hold back of REO inventory still looming and interest poised to begin creeping up, we are very likely in for a rough 2011. When the glut of REO is finally released it will flood the markets once again driving down pricing for those asset managers actually looking to move assets off their books for the fiscal year." SCOTT NEWMAN, NEWMAN REALTY, CHICAGO
* The information above stemmed from responses to a Chicago Agent survey sent out to our readers in OCT. 20 – NOV. 23 2010.
Copyright 2010 Agent Publishing LLC