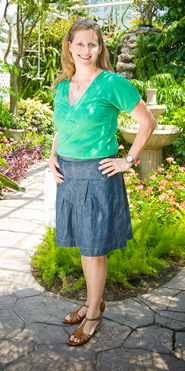 EcoBroker, LEED AP
@properties
Lincoln Park
Number of years in real estate: 8
Describe your look: My look could be described as earthy, laid back with a touch of bohemian flair.
What do you consider a "fashion don't"? I consider animal prints a fashion don't, as I believe it increases the appeal of real fur/animal skin and therefore more poaching/hunting.
What is your favorite piece of clothing and why? My Levis and my Italian camel colored oxford shoes – they are comfortable and always make me feel like myself.
What do you consider a must-have accessory? My must-have accessory is my SIGG water bottle and a giant handbag to carry everything in.
What is a fashion crime you have committed in the past? I grew up in the 80's, so take your pick.
Where are your favorite places to shop? Pivot, Bloomingdale's, Lori's, J. Crew, Banana Republic and Gap sale racks and outlet stores.
What, besides your wardrobe, completes your look? A positive attitude and the ability to find a way to smile or laugh in almost every situation.
Shoes Clarks
Skirt J. Crew
Top Banana Republic
Watch Swatch
Bag Shiraleah
Sunglasses Target
Necklace Silver Elsa Peretti for Tiffany's Cross & Om charm