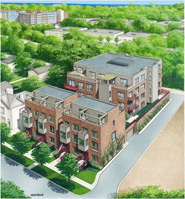 Evanston
Designed by Nagle Hartray, the architect of the Evanston Library and Harpo Studios, Cornerstone is a new urban development that aims to blend location and architectural style with an environmentally-friendly design.
Cornerstone features four row houses and 15 condominiums, including a penthouse. Each row house has over 2,300 square feet of finished living space, an attached two-car garage and two rooftop decks. The row houses have direct outdoor access from every floor.
All condominium units feature open, flexible floor plans ranging from 1,350 to 1,600 square feet. One-car garage parking is included with the condominiums.
At almost 2,000 square feet, the penthouse has sliding glass doors that open to 1,100 square feet of private rooftop deck with a sunset view. Two-car garage parking is included with the penthouse.
All of the homes have private entries, multiple exposures and private outdoor space.
Cornerstone also offers eco-friendly features, such as rainwater recycling, dual flush toilets, green garage roof and parking space outlets for electric cars.
For more information, call Aaron Share of Koenig & Strey at 312.204.5077 or visit cornerstone645.com
CORNERSTONE
Location-645 Custer Ave., Evanston
Housing Type-Condos, row houses
Number of Units-19
Number Sold-4 under contract
Delivery Date-Spring 2009
Price Range-Condos: $399,000-$529,000, row houses: $625,000, penthouse: $675,000
Co-op-2.5%
Architect-Nagle Hartray
Developer-Eon Partners
Copyright 2009 Agent Publishing LLC