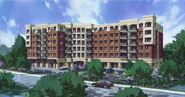 Downers Grove
Offered by Provencal Builders of Burr Ridge, The 5100 on Forest will have first floor retail space, underground heated parking and 60 residential units with 1,200 to over 2,400 square feet of space. The open, "Michigan Avenue-style" floor plans are a first for the area.
The 5100 aims to bring together the elegance of Michigan Avenue in downtown Chicago, with the tree-lined views found on residential Forest and Gilbert Avenues. Units have floor-to-ceiling windows and private balconies.
The condominiums are located just west of Main Street, where residents can find dining, entertainment and shopping. There is also nearby access to I88, I55, I355 and the Downers Grove train station.
Downers Grove has a variety of recreational opportunities, including youth and adult sports leagues
and the Indian Boundary YMCA with an indoor swimming pool.
For more information, call Shelly Askin of Coldwell Banker Residential at 630.768.2595, e-mail her at Shelly.askin@cbexchange.com or visit 5100forest.com.
THE 5100 ON FOREST
Location: 5100 Forest Ave., Downers Grove
Housing Type: Condo
Number of Units: 66
Delivery Date: Spring of 2010
Price Range: $299,000 – $650,000; Pre-construction pricing, $20,000.00 off first 10 units
Co-op: 2.5%
Architect: Group A
Developer: Provencal Construction