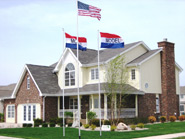 Manhattan
Butternut Ridge is a community of 155 single-family homes. Two of the inventory homes are available for immediate occupancy, The Manchester and The Bradford ranch, while buyers can also select from 12 different ranch, two-step ranch and two-story designs. Each home features three to five bedrooms and approximately 1,500 to 3,500 square feet of space. Current base prices start at $249,990.
The Manchester, located at 14540 Audubon Trail, has four bedrooms and two and one-half bathrooms. The two-story home sits on a professionally landscaped lot and has a full lookout basement, 9-foot first floor ceilings and a first floor laundry room. There are vaulted ceilings in the master bedroom, master bathroom and second bedroom. The kitchen has an oversized pantry and custom oak cabinetry. There is brick exterior on the first level, and 2,700 square feet of living space. The Manchester is priced at $319,990 after applying a special $30,000 incentive.
The Bradford ranch, at 14564 Audubon Trail, has three bedrooms, two bathrooms, a sunroom, a large front porch and a full basement. The kitchen has custom birch cabinetry, and there is wood flooring in the great room and lower hall. The Bradford can be purchased at a discounted price of $339,900 after applying a special $30,000 incentive.
Standard features at Butternut Ridge, depending on the home selected, include pantries, master bathroom soaking tubs, a two-story foyer and family room, asphalt driveways and exterior landscapes. Available options include French doors, columns in the master bathroom or sitting area, fireplaces and Whirlpool tubs.
Homesites vary from one-quarter to one-half acre and can be built with a walk-out or lookout basement to provide views of the property, which has two large lakes and extensive landscaping.
Butternut Ridge is located within the Lincoln Way High School District no. 210, and a brand new Metra station recently opened in the village that offers service to downtown Chicago. The south extension of the I-355 North-South Tollway is finished, reducing travel times to the western suburbs by 20 percent or more, and offers north-south mobility between Interstate 55 and Interstate 80.
For more information, contact Barb Hogan or Cindy Cook from the Butternut Ridge Sales Center at 815.478.0700 or visit Distinctive.bz.
BUTTERNUT RIDGE
Location: 25042 Sycamore Drive, Manhattan
Housing Type: Single-family
Number of Units: Two phases, 155 homesites
Percent Sold: 52 % in phase 1
Delivery Date: Immediately, 30- and 60-day delivery
Price Range: $234,990 to $369,990
Co-op: 2.5%
Developer: Distinctive Companies Ltd.