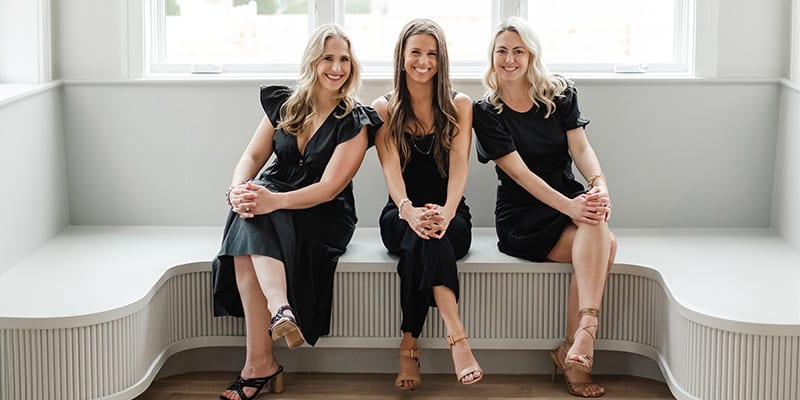 Kelly Stetler, Team Lead & Broker
Christina Corso, Broker
Teresa Parry, Broker
In a relatively short time, the three-member Kelly Stetler Team has carved out a leadership position in the western suburbs luxury market, specializing in areas such as new construction. This team of high-performing agents consistently delivers a best-in-class client experience and has a proven record of success (100% client retention – have never been fired from a listing – and have perfect 5-star Zillow/Google ratings).
The team transacts with many builders across towns driving a deep knowledge of builder reputation, price points, architectural styles, mix of spec and custom homes, and more. "Our relationships with builders are a key differentiator," Stetler shares. "We are able to confidently advise our clients about what's possible based on their goals and frequently find our clients off-market opportunities, which has been particularly helpful, given historic inventory lows."
Before becoming a licensed broker four years ago, Stetler enjoyed a successful 15-year marketing career. For this former senior vice president of strategy, the transition to real estate has been seamless with Stetler having closed over $100 million in personal transaction volume already. She was also recently inducted into the COMPASS Legends Society and named to the RealTrends America's Best List 2023.
Teammate Christina Corso is a top agent that recently joined and is a familiar name as a Who's Who Agent herself from 2022. Teresa Parry also joined the team this spring and was named a 2022 Rookie of the Year by the Chicago Association of Realtors. The team is currently ranked No. 1 in DuPage County among COMPASS agents. They are passionate about supporting the local communities they serve. They are active members of multiple boards and sponsor an extensive number of community organizations, events and programs. The group also donates a portion of the commission from each transaction to a local nonprofit each quarter.