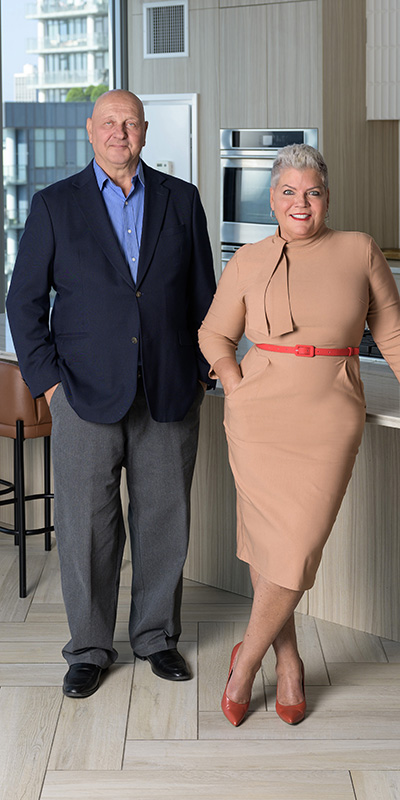 Evelyn Fred, Broker
Marion Prymicz, Broker Associate
A desire for independence and the freedom to make her own choices, regardless of the outcome, led Evelyn Fred to real estate, but the road to the eventual career of her dreams took several turns. She moved from a corporate job to opening a high-end clothing boutique to bartending for fun. Then, when a friend offered her an opportunity to become his partner in his real estate securities business, a lightbulb went off in her head.
A career in real estate resonated perfectly with her life experiences. "Naturally, I opted against becoming a partner due to my independent spirit and commitment to staying true to myself," Fred remembers.
For the last 15 years, Fred has led the EF Group, working with her husband, Marion Prymicz. "Our clients enjoy the advantages of Marion's vast construction expertise, complemented by my experience and flair for home design," Fred says. "Together, we provide our clients with valuable suggestions and recommendations on optimizing their homes for future growth opportunities, ensuring functionality and style go hand in hand."
Prymicz handles all back-office operations, while Fred serves as the face of their business, procuring new opportunities, nurturing existing client relationships and organizing client events. She is active on multiple social media platforms.
The different iterations of Fred's career taught her important lessons, such as relationship building, staying attuned to market trends—and, of course, how much she values setting her own path. She chooses client relationships carefully to ensure the most positive outcome, so her first meeting with a new client is always a consultation to determine if they're a match. "I let them know I don't work with all clients I speak with and that they, too, have that option," Fred says. Roughly 80 percent of her business is referrals and repeat clients.
Work-life balance is important to Fred and Prymicz, so they schedule adventurous international travel and local getaways as often as they can. Additionally, Fred actively contributes her time and resources to the Puerto Rican Arts Alliance, fostering her passion for the arts and supporting her community.