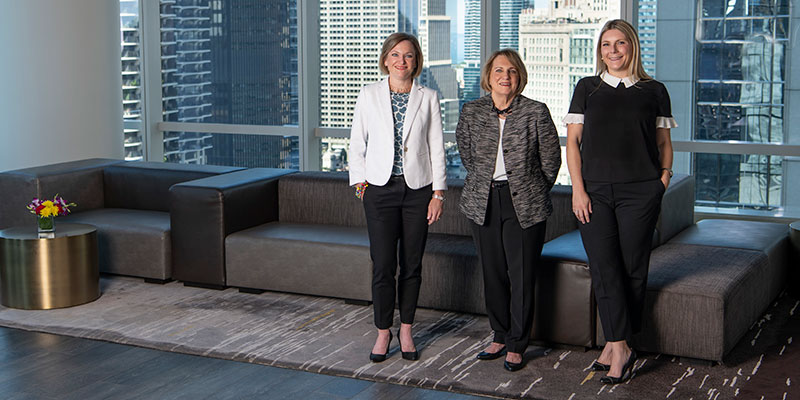 For Meredith Schreiber, leader of the Schreiber Branning Weiss team at @properties Evanston, real estate is a true lifestyle. An 11-year industry veteran, she not only lives and works in the town where she was raised, she is also a second-generation Realtor. Her expanding team includes her mother, Anne Branning, who has been a top-producing North Shore agent since the 1980s, as well as Lauren Weiss, who joined the team four years ago and is experiencing huge growth in her business. Their assistant, Mindi Schoof, is in the process of getting her license as well.
Despite the fact that Schreiber knows the North Shore inside and out, this past year has been the most challenging one of her career. "Continuing to build a team and our business during a pandemic and an unexpected housing boom was a challenge," she shares. "With emotions and stress elevated for everyone involved in a transaction, it was difficult to keep people calm and on track."
However, her lifetime knowledge of the area helped her stand out during this unprecedented time. "In September 2020, an @properties colleague had clients looking to move to Evanston, but they couldn't find what they were looking for," she says. "I went out with these newly referred clients twice and quickly understood what they wanted. After the second visit, I identified a two-flat that was in a location they loved on a huge lot. They ended up buying it and will be tearing it down to build their dream house."
Schreiber loves thinking outside the box to get her clients where they want to be. This dedication shows — 90% of her team's business comes from referrals or past clients. "I rely on the strength of my relationships — with clients, other agents, professionals involved in the transaction — to continue to build my team's business," she says.
Despite the challenges the pandemic, Schreiber's business grew more than 50% in 2020 and is accelerating even more in 2021. Schreiber is a 2017 @properties Road to Rolex recipient and a Crain's Chicago Business 2021 Notable Residential Real Estate Broker.