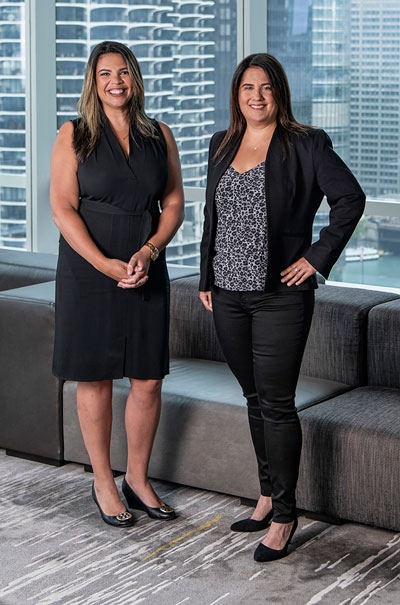 Melissa Edidin, Founder
Maritza Sowell, Associate Broker
When the startup internet company she worked for in Mexico City went bust in 2000, Melissa Edidin found herself back in Chicago and looking for work. Her knowledge of Chicago and knack for sales and business prompted her mom, an agent at the time, to suggest she give real estate a try, and the strategy paid off.
Celebrating her 20th year in the industry, Edidin says growing up in Lincoln Park has given her an insider's appreciation and knowledge of Chicago, and she's enjoyed seeing its neighborhoods evolve. She has also expanded her reach by increasingly assisting her city clients to move to the suburbs.
She says her proudest accomplishment was coming out on the other side of COVID.
"The last year and a half has challenged us in ways we never thought possible," she says. "I was successfully able to adapt to the COVID real estate environment and provide an empathetic and solid support system for my clients. I am appreciative that I was able to be successful in such a difficult year."
Incredibly detail-oriented, Edidin says she makes sure her clients have all the information they need to make the best decisions.
"My clients know that I have their best interests at heart, which leads to a trusting relationship that facilitates each transaction and ultimately the growth of my business," she says. "In the fast-paced market of 2021, it has been important to manage the expectations of buyers as they navigate a multiple-bid environment and for sellers to properly position their property to achieve maximum return. My clients know that I am on their side throughout the transaction and beyond."
In 2019, Edidin brought on Maritza Sowell, a knowledgeable and enthusiastic real estate professional with over 15 years of sales experience. As a team, they serve their clients at an even higher level and continue to rank among the top-producing agents in Chicago.
Edidin's hobbies include tennis and traveling. Her favorite trips include New Zealand, Peru (where she hiked to Machu Picchu) and Japan.