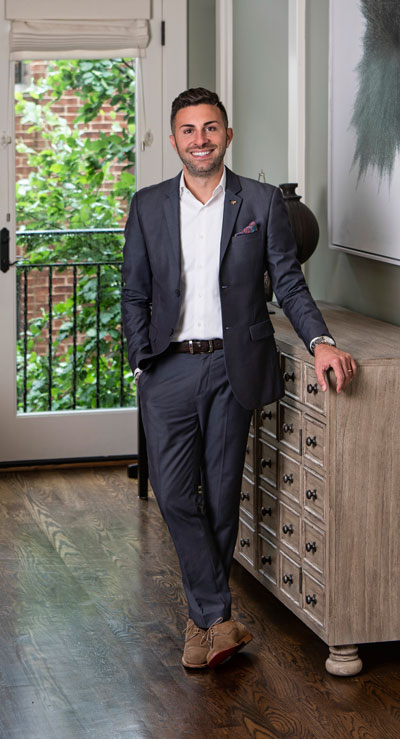 Working for one of Chicago's most prestigious residential interior design firms for nearly a decade and enjoying personalizing clients' homes, Eddie Colatorti always had an obsession with real estate.
After buying, renovating and selling properties, he realized the entire process was his passion, one that continues today. Colatorti's years of experience has afforded him the unique talent of procuring clients on both the interior design and real estate sides, as well as the ability to create and grow a niche business.
In 2020 the Chicago native grew his real estate business exponentially from years past, earning the Top 6% of the Network by sales volume. He's been awarded Million Dollar Agent 17 times from Compass and Berkshire Hathaway, Multi-Million Dollar Agent five times while at Compass, Top 6% of the Network by the Chicago Association of Realtors via Compass, Top Producing Agent in the Kinzie Office from Compass, Berkshire Hathaway Honor Society Recognition and Rising Stars to Watch, as well as 30 Under 30 Upcoming Agents from Berkshire Hathaway.
It's his ability to foster, build and grow relationships that he says has been the key to his success.
"I care about people and care about relationship building," he says. "This has been crucial to my success and the reason behind continued growth."
Colatorti says his interior design experience helps him rise above the competition by being able to quickly determine what will help make a seller's home attractive to buyers and help a buyer determine what can be done to a home they are considering from a design perspective.
"Pairing my design eye with my real estate experience and expertise has helped me evolve into a multi-faceted partner to my clients in both the home buying and selling process," he says. "This also helps me see past the current state or condition of the property and conceptualize what a space has the potential to become."
His charitable involvement includes working with PAWS Chicago and Bear Necessities, a non-profit pediatric cancer foundation. Outside of work he enjoys travel, time spent with family, cooking and pugs.