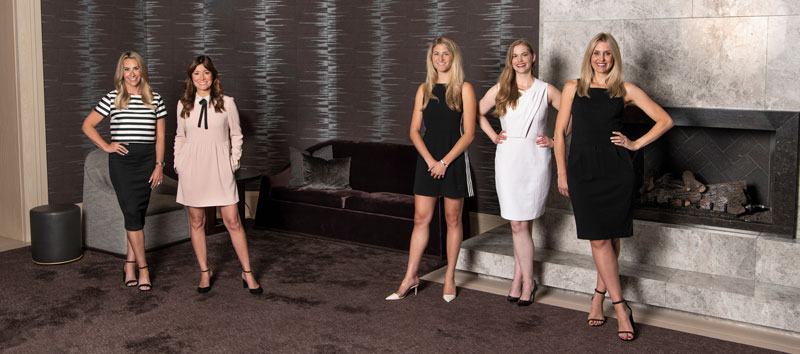 Dawn McKenna, Team Leader
Lauren Walz, Agent
Annie Royster Lenzke, Agent
Katie Moor, Agent
Bari Kesner, Agent
When you cast a wide net, you need to be able to handle the catch, according to Dawn McKenna, the founder of the Dawn McKenna Group (DMG) of Coldwell Banker Realty. After a 10-year run as one of the nation's most successful real estate agents, five years ago McKenna decided that the right team in the right markets could service more clients in an even more personalized, complete and successful manner. With 27 agents in DMG offices in Hinsdale, Winnetka, Lake Forest, Chicago's Gold Coast and in Naples and a nationally recognized social media and marketing presence, the DMG's clients are very happy she made that call.
"Our clients get the benefits of a large, nationally recognized team without sacrificing any of the personalized service and attention of a boutique agency," McKenna says. "Having great agents who are local experts in Chicago's best suburban areas is critical to that strategy." Serving buyers, sellers and renters in Hinsdale, Burr Ridge, Clarendon Hills, Oak Brook, and Western Springs, Lake Bluff, Lake Forest and Winnetka, the DMG's suburban agents each bring something different to the table: raising a family in her hometown of Western Springs, Lauren Walz knows why the Western Suburbs are the perfect place to call home and brings her college volleyball player's competitiveness to every deal; Annie Lenzke, a lifelong resident of Lake Bluff, draws on a prior career doing marketing for blue chip clients at Leo Burnett to help her North Shore clients; Katie Moor's successful career in media and marketing in New York and Chicago bring style, energy and sophistication to her Winnetka and North Shore clients; and Bari Kesner's unique combination of Division I soccer at SMU and two years teaching third graders in an underserved Los Angeles community creates an agent with a unique perspective, perseverance and drive. Supporting them is McKenna, who sets the tone for the team by combining expert local knowledge, nationally recognized success and unmatched levels of style, energy, and enthusiasm.
From 2018 to 2021, the Dawn McKenna Group ranked No. 1 Real Estate Team in Illinois within Coldwell Banker and No. 3 in the U.S.