The Social Cost of Segregation
Earlier this year, Brookings Institution Demographer William Frey's reported that Chicago is currently the third-most segregated city in the country, behind Milwaukee and New York. Frey stated that 76 percent of the city's African American population would have to move to achieve complete integration. 
An average white citizen in Chicago today lives in a neighborhood that is nearly three-quarters white. By contrast, the average black citizen lives in a neighborhood that is 64 percent black. That may be down from 69 percent in 1960, but the systematic subjugation of minorities in Chicago has created boundaries that transcend geography.
Income Disparity
From 1970 to 2010, data from the U.S. Census (organized by the University of Toronto) shows how strongly the direction of income growth or decline in Chicago has correlated to neighborhoods. 
In large swaths of city, mostly found in the South and West Sides, incomes over the four-decade period averaged not growth but decline, with drops ranging in varying degrees of severity from 20 to 114 percent. On the city's predominantly white North Side, incomes were up in some places by as much as 254 percent, and never by less than 20 percent. Using data from the American Community Survey, which is based on the latest available Census tract data (2008-2012), online income mapping site Rich Blocks Poor Blocks found that median incomes in the South and West Sides ranged from less than $10,000 to $39,999, while North Side medians ranged from $60,000 to $99,999.
Moreover, a study from the Brookings Institution confirmed that, regardless of neighborhood, the incomes of white Chicagoans grew by 52 percent from 1990 to 2012, compared with just 13 percent for blacks and 15 percent for Hispanics.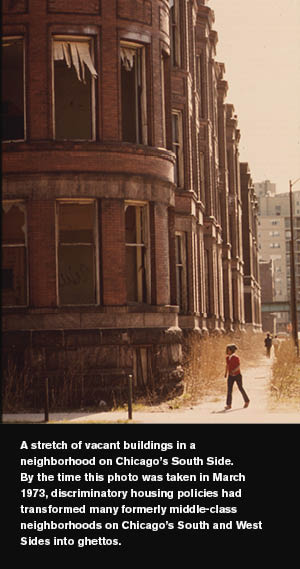 Additional research shows the generational effects behind those statistics.
Earlier this year, a paper released by a team of researchers led by Stanford economist Raj Chetty reaffirmed the barriers to wealth that poor children inherit from their parents, and added credence to the widely supported belief that where people come from will play a significant role in determining where they will end up. The study showed a particularly bleak outlook for low-income boys.
"Low-income boys who grow up in high-poverty, high-minority areas work significantly less than girls," the report read. "These areas also have higher rates of crime, suggesting that boys growing up in concentrated poverty substitute from formal employment to crime."
Furthermore, a study by Columbia University's National Center for Children in Poverty found that 45 percent of people who spent at least half of their childhood in poverty were poor at age 35. For those who spent less than half of their childhood in poverty, only 8 percent were poor at age 35.
In 2014, The New York Times mapped poverty levels for several major U.S. cities, and found that in Chicago, the South and West Sides were steeped in poverty, with 40 to 60 percent of residents living below the line (which was set at $23,283 for a family of four and at $11,945 for an individual). In some areas, such as Englewood, the poverty rate was above 60 percent.
The Health Gap
"The reason we pay so much attention to segregation is because it matters in terms of life outcomes," Stephanie Schmitz Bechteler, research and evaluation director at the Chicago Urban League, recently told the Chicago Tribune. "Where you live and where you grow up matters, and so does who you grow up around. It dictates where you go to school, the access you have to healthy business corridors, even your access to healthy food and job opportunities. All of this is tied to your address."
Life expectancy is among the outcomes affected by location, according to data compiled by the Robert Wood Johnson Foundation.
Around the Loop, life expectancy is 85 years; around the Red Line stop at Fullerton, on the North Side, it's 81 years. But to the west, in East Garfield Park, life expectancy drops to 72 years. Further south near Washington Park's Garfield Red Line station, it falls even lower to 69 years.
In a 2015 article from The Huffington Post, Harvard Medical School Professor Karen Winkfield told the publication that health disparities between whites and blacks are "universal."
"There are disparities across almost every single disease entity," she said.
According to figures from the Centers for Disease Control and Prevention, African American children are more likely to be obese and have asthma, and black populations are, in general, more likely to develop (and die from) breast cancer and contract HIV.
In an interview with the Tribune, Steve Whitman, of the Sinai Urban Health Institute, linked Chicago's health gap to segregation.
"The underlying issue here is racism and poverty," he said. "In Chicago, it's exacerbated by segregation. Black people in Chicago are forced to live in neighborhoods where…they tend to go to segregated health facilities that are poorly funded and, in different ways, failing."
Dearborn REALTIST Board President Tracey Taylor also draws attention to the far-reaching legacies of the city's housing discrimination practices.
"Those unlawful practices are still impacting African Americans today," Taylor said. "Decades of systemic bias and unlawful real estate business practices have denied us the right then and, to a certain extent, continues to do so today. When you have a property that is equal distance to downtown Chicago, but the values are not equal, there is a huge disparity. Property valuation is key in determining the worth and economic development potential in a given neighborhood. If the playing field is not level, it's an economically devastating loss for that community."