How Many New Offices Opened This Year Compared to Last Year?
While data shows the housing market is incrementally improving, interestingly, the number of new offices that opened in the Chicagoland area declined from 2011 to 2012. MRED looked into how many offices opened each month of 2011 and then 2012, and found that, with the exception of the month of June, which had an increase of 11.63 percent, and August, which had no change in the number of new offices for both years, the percent change for new office totals declined for every month this year. While we haven't seen November or December's numbers yet, we wonder if the trend will continue, and the number of new offices that open during the remainder of this year will be fewer than last November and December.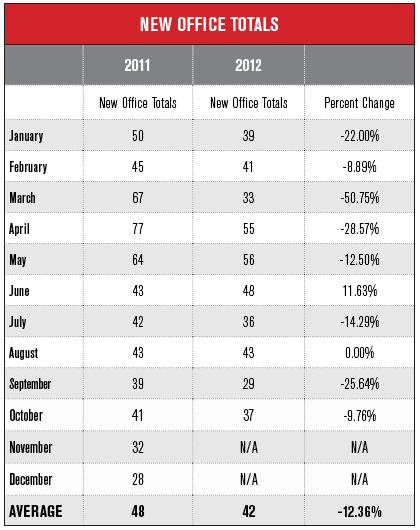 ---
Midwest Real Estate Data (MRED) is the real estate data aggregator and distributor providing the Chicagoland multiple listing service (MLS) to nearly 8,000 real estate offices and 40,000 real estate professionals, including brokers, agents and appraisers. MRED has expanded well into the "collar" counties surrounding Chicagoland, and its property information encompasses northern Illinois, southern Wisconsin and northwest Indiana.